Company News:
New for 2018 – This has been a very exciting year as Shackelford Machine Inc has added new equipment to its facility.  We continue to expand our capability and our capacity as we continue to invest in our future. We have purchased our 3rd 5 axis hard metals 50 Taper Mazak I-800 machine.  We have connected our Mazak line to a Brand New Mazak Palletech system as well. This automated Palletch robotic system will allow us to run line out operations and organize a custom library of mulitiple continuous job runs. This is also linked to our new Zollar Presseter and new Heat shrink mahcine. Shackelford Machine Inc. has added an additional 4th axis Mazak VTC-250D/50  Hard Metals 50 taper Machining Center. Als,o we have added an additional 5 Axis machine Haas SS 750/UMC machining center as well.
New for 2018 3rd 5 axis hard metals 50 Taper Mazak I-800 machining center

New for 2018 – Automated Mazak Palletch robotic system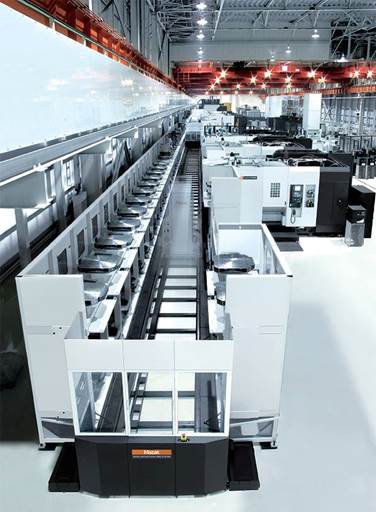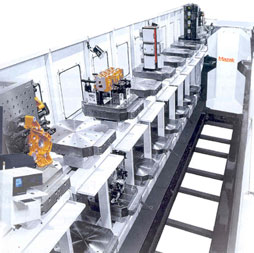 New 2018 Haas 5 axis SS 750/UMC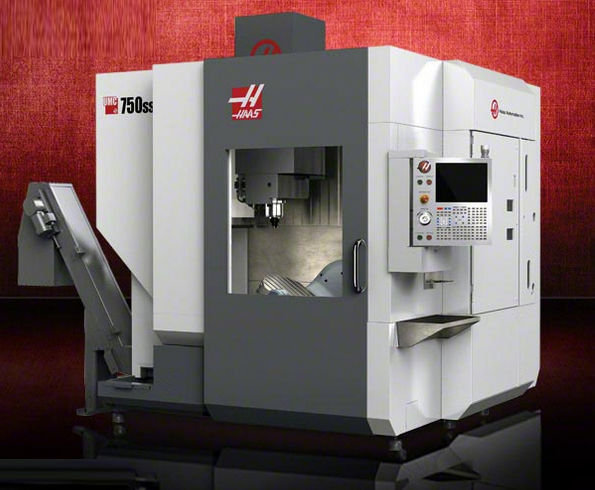 New 2018 – Mazak 50 taper hard metal machining Center VTC-250D/50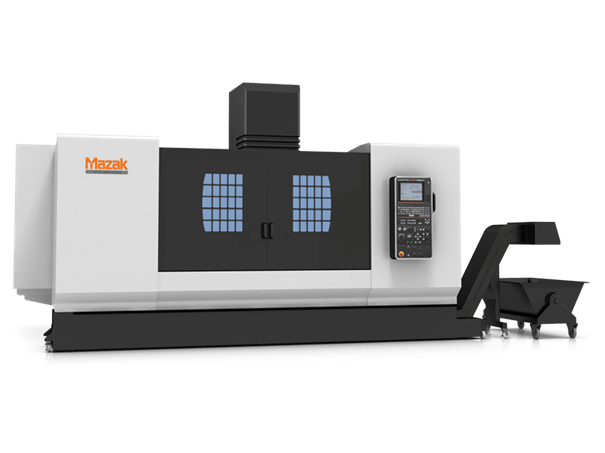 June 2016- Shackelford Machine Inc has added another New Machine for 2016. The all new 5 Axis Mazak Variaxis I-800 is a 50 taper machine eqiuped with Mazak's latest Smooth Technology Smooth Control X. The new Smooth Control X is one of the fastest most advanced processor controls on the market. This machine allows us to machine mulit-axis parts with the capability of machining a diveristiy of metals. This machine is loaded with all options, multi- pallet changer, and 1,000 psi thru spindle coolant.

January 2015- Shackelford Machine Inc has Expanded its Capabilities by adding a New 5 axis Mazak Variaxis I-800. This 5 Axis 50 Taper spindle will allow us to machine very complex parts in aluminum and Hard Metals (such as Titanium, PH, Stainless, Inconel, Bronze, Etc.) The machine will come complete with a two pallet changer system. This will allow the operator to load blocks of material on to the machine while the spindle is still running and producing parts.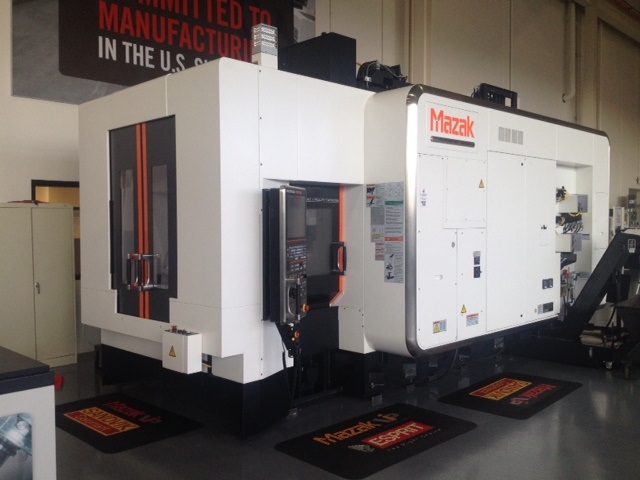 August 2014 –This year we added an additional Master3DGuage arm to our Quality Department. Having an extra inspection arm to check Catia Model Engineering has helped us out this year by staying up with more demand at a faster pace. It has also allowed us to maintain superb quality and additional capabilities to check close tolerance precision parts throughout our facility.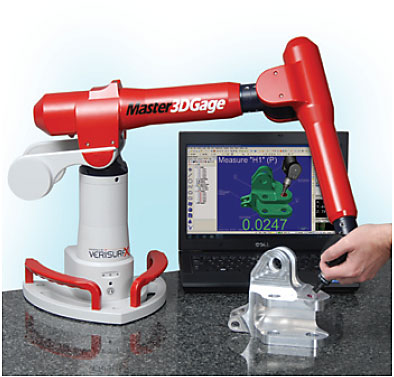 December 2013 – Shackelford Machine Inc. is issued on December's front cover and center section of Mid-America Commerce & Industry Magazine (Pages 15 & 16 ). Check out the Article: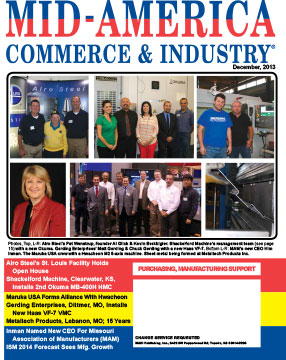 October 23, 2013 – NEW PURCHASE – Shackelford Machine Inc. has just added a HMP-1520 Part Marking System. This Part Marking System is a programmable software system that allows the machine to ink jet parts at a rapid pace. This machine will be equipped with an additional hand held part marker that is used for part marking larger parts. Also in addition this machine will be equipped with part marking rotary motion markers to inkjet objects that are round in circumference as well. The software also indentifies bar codes and takes photos to indentify each part that comes though shop production.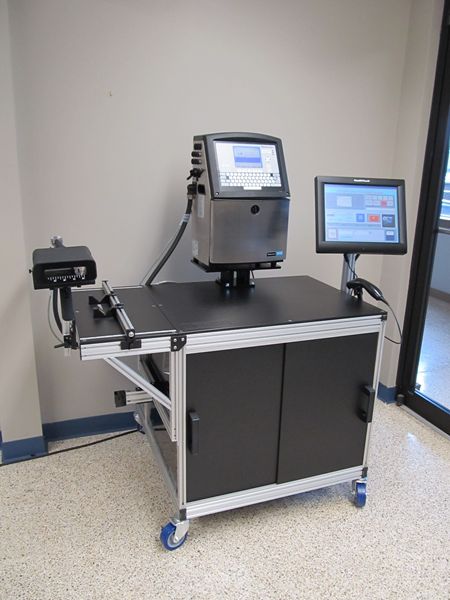 June 15, 2013 – Shackelford Machine Inc. has added an additional High Speed 4th AXIS Horizontal Okuma MB-4000H. This is a Twin to the machine Shackelford had purchase in the Fall of 2012.
These new machines have reduced set-up times and have dramatically improved efficiency. These machines allow us to shorten any long run qty's at a fast rate. These machines work great for Blue Streak work that allows us to get products to our Customers fast!!! This machine is equipped with 1,000 psi coolant pressure through the spindle and pulls 1-Gforce in rapid movements. This machine is equipped with shower coolant and tool break sensors for running lights out operations. The shuttle tables allow one to run 1st and 2nd operations simultaneously while machining a complete part.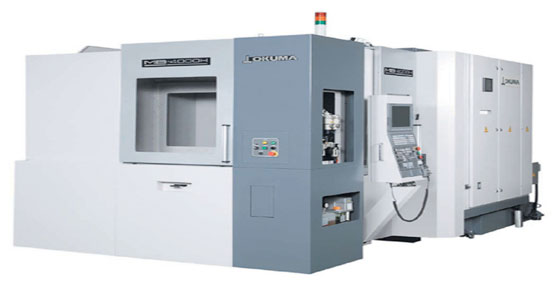 October 10, 2012– Shackelford Machine Inc. Purchases Three NEW Machining Centers!!!
We are continuously investing into the company and exploring new cutting technologies. We purchased three new Machining Centers to expand our capacity for new production parts. Shackelford Machine purchased a High Speed Okuma MB-4000H Horizontal full 4th Axis machine. This machine is equipped with 1,000 psi coolant pressure through the spindle and pulls 1 G-force in rapid movements. We have also added two more Hardinge shuttle table machining centers as well. These two shuttle tables will allow us to run 1st and 2nd operation simultaneously.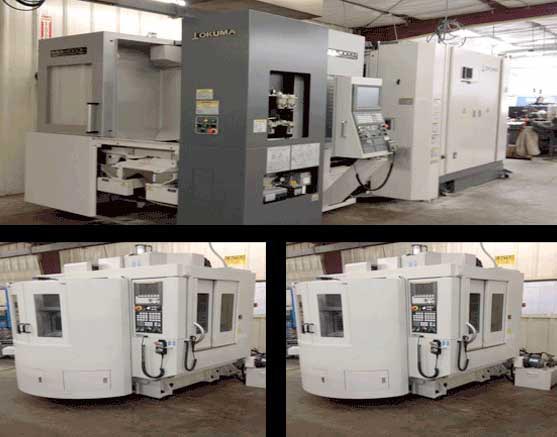 September 28, 2012- Shackelford Machine Inc purchases a NEW Parlec Bilz Thermogrip Heat Shrink Set system!!!
This system allows the tool to be heated, submerged, and cooled within two minutes. This system eliminates the need for handling hot tools and it allows the tool to be set without any movement once it's fitted into the holder.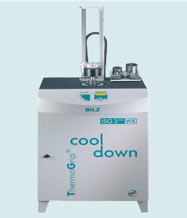 September 28, 2012- Shackelford Machine Purchases a NEW Parlec Tool Presetter!!!
Presetters measure the cutting edges of your tools to make sure they precisely match job specifications and are ready to be used in the machine. Adjustments that could take up to 15 minutes when made on a machine can be made offline in less than a minute on a presetter, while your machine continues cutting. This allows for more accuracy and less operator mistakes. It also decreases down spindle time. While your Presetter is making offline tooling offset adjustments your machine is still cutting chips. This allows for a higher productivity rate with more accurate cutting and less errors.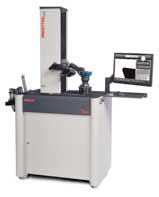 September 13-16, 2012- Shackelford Machine Inc attends the 2012 International Manufacturing Technology Show (IMTS) in Chicago Illinois.
We enjoyed the 2012 (IMTS) International Manufacturing Technology show this year. The IMTS show covers 1.2 million square feet of vendors from all over the world. These technologies specialize in manufacturing, tooling, and software for the Aerospace, Space, and Automotive industries. We obtained many new ideas and received a good look into a new generation of future manufacturing technology.

September 7, 2012- Shackelford Machine Inc. Finishes NEW building add on!!!
We tore out our old offices and expanded the facility area adding additional shop space to the production floor. This will give us additional room for our new purchased equipment and allow us to place machines in cell stations for 1st and 2nd operations. ~ Ryan Shackelford General Manager.

2012- Celebrating 45 years in business!!!
Thank you to all our employees and our community for all the great years and support!
2010- Shackelford Machine Inc. added another Master3DGauge Portable CMM machine.
"This arm allows for faster and more accurate calculations for final inspections. The arm can check right off of the Catia Model and identify if the part is out of tolerance. A First Article Inspection that may have taken hours to do is now reported in minutes. ~ Ryan Shackelford General Manager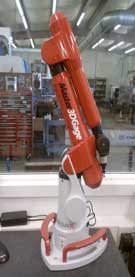 2008- Shackelford Machine has completed NEW construction for offices and QA department!
We added another 4,500 square feet of new offices and a new Quality department. Shackelford Machine also purchased additional inspection equipment as well.

2007- NEW Additional Building has been completed!!!
New equipment has been purchased adding a CNC Hardinge Turning Center and a Bridgeport Machining Center!!!

2006- Shackelford Machine has gone live with Exact Job Boss software.
This system allows us to create a live tracking system for all production on the floor and outside of our facility. This system allows us to track scheduling, tooling, materials, outside processors and production, and all inventory levels. This system allows us to visually see where all parts are at during the process at any given time.